AKTUĀLĀ IZSTĀDE / CURRENT EXHIBTION
ĒDOT ANANASUS UZ MĒNESS

RĪGAS FOTOMĒNESIS 2019
Latvijas Okupācijas muzejs
Raiņa bulvāris 7, Rīga
Katru dienu 11.00 - 18.00
15.05. - 16.06.2019.
EATING PINEAPPLES ON THE MOON
RIGA PHOTOMONTH 2019

The Museum of Occupation of Latvia
7 Raina blv., Riga
Daily 11.00 - 18.00
15.05. - 16.06.2019.
RAIDĪJUMS "MANA MŪZIKA" LATVIJAS RADIO 3 KLASIKA, 8.09.2018.
JUNE 11, 2018: MASTER'S WORK DEFENDED!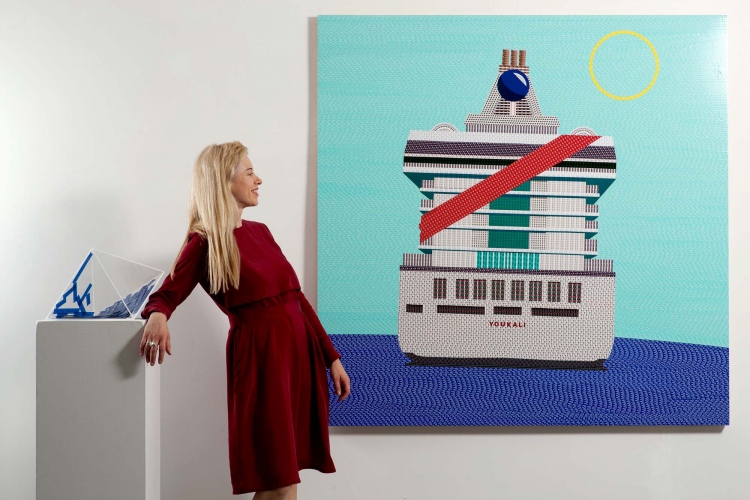 Marta Veinberga by her diploma work Youkali, June 11, 2018. Photography: Didzis Grodzs
ANIMAL PLANNER 2018
This jewel is the Planner 2018 of the Art Academy of Latvia. Ilustrated by the students and professors, this colourful issue features diverse works in different media on the subject ANIMAL. A drawing of mine accompanies the 3rd week of October. Enjoy!
BORISA UN INĀRAS TETEREVU FONDA VEIDOTĀ FILMA PAR FONDA STIPENDIĀTI MARTU VEINBERGU
ILLUSTRATIONS FOR THE "VETO MAGAZINE" #40
Do it yourself! is the topic of the lates volume of the VETO magazine (#40, summer 2017). It was a pure pleasure to make some illustrations specially for this issue and to collaborate with VETO's charming creators in general.
... and finally, the moment you see stickers return to supermarkets and convenience stores at their new incarnation!
More on the magazine here: http://veto.lv/veto-magazine-40/
9 APRĪLIS, 2017 - SIŽETS PAR UZLĪMJU DARBIEM LNT DIENAS ZIŅĀS (ar Kārli Kristapsonu)
Sekojiet saitei zemāk, lai noskatītos video: / Please follow the link below to see the video:
RAKSTS ŽURNĀLĀ "IR", nr# 11 (360), Marts 16 - 22, 2017
Les Slips de Papa DRAWING BOOK drawing book Vol#3
Happy to see my Buffet printed in the Volume 3 drawing book by the artist collective Les Slips de Papa! Here two pictures from the book opening party in Nantes.
More on Les Slips here: