Animal Planner 2018
This jewel is the Planner 2018 of the Art Academy of Latvia. Ilustrated by the students and professors, this colourful issue features diverse works in different media on the subject ANIMAL. A drawing of mine accompanies the 3rd week of October. Enjoy!
In short about my work - a film by The Boris and Inara Teterev foundation
Illustrations for the VETO magazine #40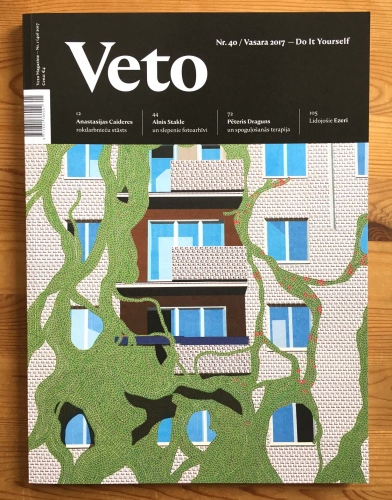 VETO magazine Vol 40, cover photo: Shared Blanket by Marta Veinberga
Do it yourself! is the topic of the lates volume of the VETO magazine (#40, summer 2017). It was a pure pleasure to make some illustrations specially for this issue and to collaborate with VETO's charming creators in general.
... and finally, the moment you see stickers return to supermarkets and convenience stores at their new incarnation!
More on the magazine here: http://veto.lv/veto-magazine-40/
April 9 comes with the great opportunity to tell about my work in the daily news - LNT channel with Kārlis Kristapsons
Please follow the link below to see the video:
Article in the "IR" magazine, vol# 11 (360), March 16 - 22, 2017
Les Slips de Papa drawing book Vol#3
Happy to see my Buffet printed in the Volume 3 drawing book by the artist collective Les Slips de Papa! Here two pictures from the book opening party in Nantes.
More on Les Slips here:
Recent show
From February 16 to March 26 Shared Blaket was displayed at the Jurmala City museum along with the works by other students of the Art Academy of Latvia. Thank you, dear visitors, for your sticker donations and other donations!